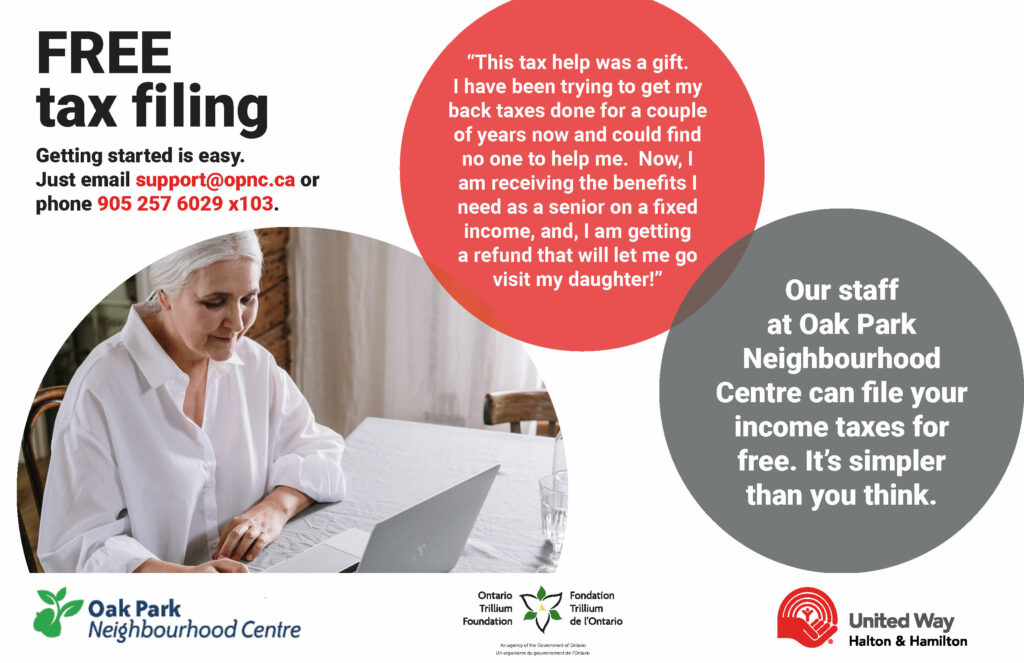 Year Round Income Tax Clinics
We provide free year round Income tax completion. support@opnc.ca 905 257-6029 x 103
Micro Finance Loans, Bank Accounts & Credit
In conjunction with First Ontario Credit Union, we can assist with low interest loans for those who would not otherwise qualify. (Subject to approval). support@opnc.ca
Bank Account Comparison Tool: https://itools-ioutils.fcac-acfc.gc.ca/ACT-OCC/SearchFilter-eng.aspx
Credit Card Payment Calculator: https://itools-ioutils.fcac-acfc.gc.ca/ccpc-cpcc/CCPCCalc-CPCCCalc-eng.aspx
Credit Card Comparison Tool: https://itools-ioutils.fcac-acfc.gc.ca/CCCT-OCCC/SearchFilter-eng.aspx
Canada Learning Bond
Free Money for your child's education. www.Startyourresp.ca/opnc
Utility Bill Payment Assistance
1. Leap provides a one-time emergency payment for hydro and gas low-income customers who are in arrears.
2. The Ontario Energy Support Program provides a grant on your bill of between $35 to $75 each month.
Please fill out the required form, scan or take a photo of it and email to community@opnc.ca, and attach photos or scans of the documents listed below.
In the future we may be able to return to drop in appointments on Wednesday and Thursdays from 11:30-2:30
Eligibility
1) Person applying has their name on the Oakville bill and lives at that address.
2) Your household income is below the poverty line
3) Your account is in arrears.
4) Have a sustainable plan for how you will pay future bills.
5) You cannot have applied in the last 12 months for this assistance
For more information contact 905-257-6029 x 105 or email community@opnc.ca
You Will Need:
1. The current energy bill for your residence
2. Identification –identification for each person in the household.(If via email we will confirm this over the phone
3. The last month of bank statements for everyone in the household or your current tax assessment
4. Proof of rent/mortgage payment (This may be on your bank statement)
5. All adults in the home must attend the interview
Online Money Saving & Budgeting Resources
Compare Cell Phone Plans: https://www.comparecellular.com/
New to Canada Money Management https://moneymanagement.prospercanada.org/
Frugal Cookbook http://www.squawkfox.com/downloads/squawkfox_frugalfoodfit.pdf
Resumes Templates http://www.squawkfox.com/category/resumes/
Ways to save http://www.squawkfox.com/2008/09/02/50-ways-to-save-1000-a-year/
Ways to stay cool & reduce your air conditioning bill http://www.squawkfox.com/2009/07/31/ceiling-fans-air-conditioning/
Plug your outlets to save 5% on heating http://www.squawkfox.com/2009/05/11/child-proof-outlets-save/
Save Money on Laundry http://www.squawkfox.com/2008/06/25/how-to-save-money-on-laundry/
Debt Reduction work Sheet http://www.squawkfox.com/2010/08/16/debt-reduction-spreadsheet/
Save A Penny Videos http://www.squawkfox.com/2010/04/30/money-tips-saving-penny/
How to Make Budget http://www.squawkfox.com/2010/03/03/how-to-make-a-budget/